See the Coolest Furniture in the World at International Pool | Spa | Patio Expo
TONIK, a new American-made brand of hospitality and commercial furniture, will showcase its line of funky, eye-blazing products at the International Pool | Spa | Patio Expo on Nov 1-3 in Orlando, FL, Booth 2736.
The company's furniture can be used indoors or outdoors and is particularly suited for the pool, spa and patio markets since it is weather-resistant, UV-resistant, easy to clean and made of highly durable polyethylene.
The products are also a lot of fun.
"We approach TONIK with the attitude that furniture can be highly durable, highly aesthetic and highly conversational, all at the same time," Stephanie Suiter, TONIK Product Manager, said. "Our furniture is high art for the masses so to speak. People are naturally drawn to our products because of the way we combine play and functionality."
Products that will be on display at the tradeshow include:
GOBY™ – This series of indoor and outdoor furniture with a curvaceous signature shape has interplay of concavity and convexity, bringing optimal comfort and a revitalizing pop of color to any space. We have upped the style quotient by having a single tone version or adding a secondary color to the front interior.
HUEY™ – This commercial seating product is an ultra-modern take on the timeless concept of the rocking chair. Its bold curves and seamless motion give this chair a highly innovative and unique look. It also gives you the option of an 18 inch seating height or our more petite frame friendly 16 inch version.
RIPTIDE™ – This modular furniture seating system composed of three primary shapes is capable of endless configurations and is made especially for hospitality and other commercial environments. Once configured, RIPTIDE pieces can be kept together with optional ganging plates and come equipped with optional USB ports to charge digital devices when using the product indoors.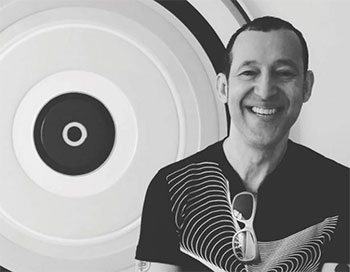 TONIK's inaugural collection was designed by world-renowned, award-winning designer Karim Rashid, who has worked in more than 40 countries on over 3,000 designs. He also has been awarded more than 300 times for his innovative and prolific work internationally.
"Today, poetic design is based on a plethora of complex criteria: human experience, social behaviors, global, economic and political issues, physical and mental interaction, form, vision, and a rigorous understanding and desire for contemporary culture," Karim said. "TONIK allows us to live in the modus of our time, to participate in the contemporary world, and to release ourselves from nostalgia, antiquated traditions, old rituals, kitsch and the meaningless."
TONIK transcends typical hospitality furniture and includes an inventive variety of curvaceous pieces designed to set the physical experience in which we collaborate, connect and gather. Aside from the products that will be showcased at the expo, our inaugural collection includes dining and lounge collections, stools, planters and a variety of seating.
It also features Dottie, our playful abstraction of a sheep that exudes character and friendliness. Its soft, bulbous puffs and bright, outgoing colors make it the ideal conversation piece. Dottie is whimsical and serves as a symbol of TONIK and the company's guiding principles of inclusiveness, connectivity and play.
Back