Raising the Bar: New Tumbler Stools, Side Tables Add Depth to Tonik Line
To complement our whimsical and design-forward indoor/outdoor furniture, Tonik is pleased to announce the latest addition to its innovative line of products. It's called Tumbler, and it focuses on the classic shapes of the circle and square.
Available in the 21 hues from Tonik's two color palettes and made of high-grade, rotationally molded polyethylene, these two new pieces can be used as a stool or side table in any area where friends and associates meet to connect.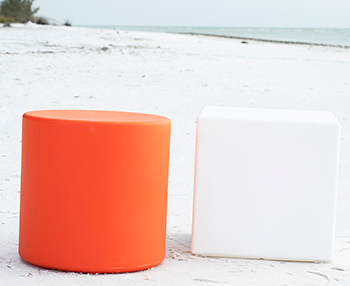 "We think the simple shapes add depth to our line and allow customers to mix and match the new Tumbler pieces to the Tonik products they purchase or that they may already have," Stephanie Suiter, Tonik Product Manager, said. "Plus, these new pieces are just really fun and simple, and placing a bunch of these together around a patio fire pit or poolside helps create connections and experiences for those using them. And, in the end, that's one of our most important guiding principles."
Tumbler products are 18-inches tall, available in an illuminated version and are perfect companion or stand-alone pieces for hotels, libraries, schools, pool areas or any other space that desires fun, attractive furniture:
Aside from being highly attractive, Tumbler is:
• Made of one-piece, rotationally molded, specially formulated, high-impact polyethylene.
• FDA approved and GREENGUARD Gold Certified.
• Produced with enhanced UV-resistant formulation, making it suitable for both indoor and outdoor use.
• Easily cleaned with readily available, store-bought cleaners.
• Product tested to 500-lb static load.
• Backed by a five-year limited replacement warranty.
• Designed with ballasting, bolt-down and ganging options.
To learn more about Tumbler, please visit our website.
Back